---
Introduction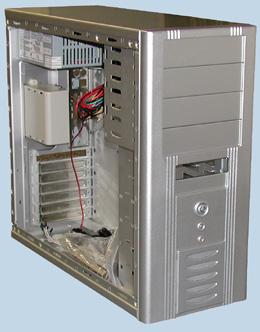 It is understandable that some of you out there who try to keep up do date on all the motherboard and graphics card reviews available (and I include myself among you), might choose not to read this article; it is not intended for people like us. Rather, this article is intended for people who would like to familiarize themselves with the world of computer hardware, those people whom we often mistakenly assume are as familiar with the intricacies of setting up a computer as we are, or even of thinking they know what a computer's most basic parts do. I wrote this guide with my sister in mind; you may want to forward this URL to yours.

But even if you are already a hardware junkie, go ahead and click through these pages anyway to see how my approach differs from yours. If you are not one, I hope the information contained therein is helpful to you. Be careful, though; this computer hardware business can get addictive. Once you start down the spiral, the next thing you know you may find yourself spending all your hard-earned cash on all the latest and the greatest hardware, or cutting "blowholes" in your case to enhance your overclocking efforts.

Building your own computer has many advantages over buying one pre-assembled. One is cost. With enough research and bargain hunting, it is very easy to build a much cheaper yet more powerful system than any from Dell or Compaq. Another is easy upgrading: three years from now when your computer is out of date, you will know exactly what you have inside your case and what needs to be replaced. And don't forget the pursuit of knowledge: there is something to be said for knowing how to put a computer together, even if you never do so.

This article attempts to show you step-by-step how to assemble a new computer and get it running. It assumes that you don't know a single thing about computers, and has lots of pictures It is basically divided into two parts. The first is the assembly of the hardware, and the second is the installation of the operating system (which I actually find to be more difficult.)

Before we begin, I want to make a few warnings. First of all, this article does not make any hardware recommendations. The components used here are simply the ones I like and want in my own system. Yours will be different, but the basics of putting them together are the same. Secondly, the two operating systems I show how to install are Windows 98 and Windows 2000. Don't flame me for not including Linux; I think you will agree that it is not appropriate for most beginners. Finally, be prepared for some problems. Building a computer rarely goes 100% smoothly. But if you stay calm and start again from the point where things went wrong, you will eventually set them right again.

Copyright All-About-PC. All rights reserved.
All information on this Website is protected by All- About-PC. Reproduction and/or sale in any form without agreement of the publisher is forbidden. All information on this website has been thoroughly researched and as far as is possible has been verified by secondary sources, but we can not take responsibility for the content or for any damages incurred by using this information.